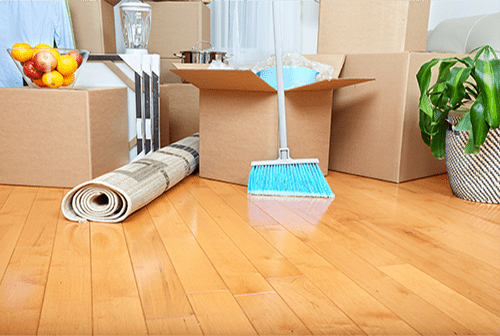 Moving? – We'll do the dirty work for you!
Getting and Keeping a home clean during the listing period is very stressful for many owners and realtors, yet it is a well known fact that a clean home sells faster. It is key to home
sales!
Whether you are a real estate agent listing a property for sale or a homeowner moving into your new home, we can help!
Move in and Move out Cleanings specializes in the deep cleaning tasks that need to be done to make your house shine. We can also do "Spruce Up Cleanings" during the duration of your listing.
Make your life easier! Hire Reliable Twin Cleaning to take the house cleaning chores off your list.
Move-out Cleaning Includes:
 Kitchen:
•     Clean, disinfect and polish kitchen cabinets, interior and exterior
•     Unplug the refrigerator. Remove any food or other items inside the refrigerator and/or freezer and clean the entire appliance- removing trays, as needed. Clean behind and above refrigerator. Plug the refrigerator in when finished cleaning.
•     Clean the inside of the oven, the oven racks, the broiler pan, and the drawer below the oven.
•     Clean the top of the stove, including the burner pans and beneath the burner pans, and under and around the
       temperature knobs. Clean behind the stove.
•     Clean the wall behind the stove, the vent and filter above the stove, and the exterior of the range hood.
•     Run the garbage disposal to remove any debris.
•     Remove all shelf contents. Clean and disinfect cabinet shelves and doors.
•     Dispose of all trash.
•     Clean all countertops.
•     Scrub, disinfect, and polish kitchen floor.
•     Clean the kitchen sink and fixtures, removing any lime deposits.
•     Clean all kitchen baseboards and walls.
•     Dust above cabinets.
Bathroom(s):
•     Dust and Windex globe light bulbs
•     Windex mirrors
•     Clean bathroom counter top and sink, towel & shower bars and the toilet paper holder fixture. Polish silver/chrome when finished
•     Clean the inside, outside & above the medicine cabinet
•     Scrub & disinfect shower walls and tub basin, removing any mildew or lime deposits
•     Towel dry tub and shower walls
•     Clean the exterior surfaces of the toilet. Scrub the toilet bowl
•     Clean the bathroom floor. Scrub any stains or spots on the floor
•     Remove all trash from the apartment
•     Dust & clean baseboards and window sills
•     Clean window frames & Windex windows, leaving no streak marks
•     If applicable, wash exterior and interior of balcony windows & window frames
•     Remove any marks from the walls, door or door frames (if necessary)
•     Vacuum the carpet, removing debris along the baseboards
Move Out / Vacant Apartments
Reliable Twin Cleaning is currently contracted by a number of management companies and construction firms to complete vacant turnover or post-construction cleaning. Service includes a top-to-bottom cleaning of the entire residence, cleaning everything from the baseboards and windows to the ceiling fixtures. Rates vary based on size, scope of work and the amount of units Reliable Twin Cleaning are contracted to clean.
Common Area Cleaning:
•     Windex all glass surfaces, including interior windows, door frames, door tracks, door handles
•     Dust & clean interior window sills and window frames
•     Dust mini-blinds. Remove dirt spots from mini-blinds, as needed.
•     Dust & clean baseboards, A/C vents, temperature controls
•     Clean globe fixtures. Maintenance staff must take down and re-install globe fixtures before and after cleaning.
•     Wipe down closet shelves, closet doors, front door (inside & outside)
•     Mop tile floors, including bathroom & kitchen floors.
•     Vacuum all carpeted areas
•     Remove all garbage or debris. Report any maintenance issues to the property maintenance staff
Bathroom(s) Cleaning:
•     Clean & polish shower stall, tub, sink, vanity, mirror, toilet, faucets and floors
•     Clean interior & exterior of bathroom cabinets
•     Clean interior & exterior of bathroom vanity, including vanity globe bulbs
•     Clean & polish vents, shower bar, towel bar, doorknobs
•     Remove all stickers, loose caulking and debris from inside bathroom area
•     Clean bathroom floor baseboards & wipe down walls
Kitchen Cleaning:
•     Clean interior & exterior of kitchen cabinets, countertops, sink, refrigerator, dishwasher, washer/dryer (if applicable), stove & oven
•     Clean interior & exterior of microwave oven (if applicable)
•     Clean, polish & put away drip pans and broiler pans
•     Clean top of kitchen cabinets and refrigerator
•     Clean fluorescent light fixtures, globe fixtures, interior & exterior (must be taken down & re-installed by maintenance staff)
•     Clean & polish kitchen sink
•     Remove all stickers, loose caulking & debris from inside kitchen area
•     Clean kitchen floor baseboards and wipe down walls
•     Clean behind refrigerator and oven, including the walls & floors
General Cleaning:
•     Dust all furniture, fireplace mantle, baseboards, window sills
•     Clean mirrors and glass surfaces
•     Clean laundry room floor
•     Vacuum entire apartment
•     Remove all trash and empty all wastebaskets and put in new trash liners
•     Mop door entry, bathroom & kitchen floors
•     Lock apartment door