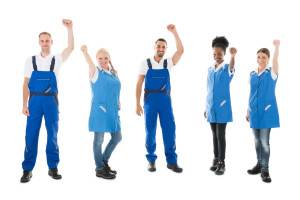 If you have a strong work ethic and "doing it right the first time" is your moto. You should consider working in a fast paced professional environment. Reliable Twin Cleaning is looking for people who pay attention to details and want to be part of a successful team.
A cleaning team member: is responsible for the cleanliness of a client's homes.
Responsibilities
 

Arrive to work on time everyday

Read your email daily. Schedules are always sent electronically.

Perform various cleaning activities including full bathrooms, kitchens, dining room, ceiling fans, cents, bedrooms, vacuuming and other cleaning activities in accordance with instructions given by the crew leader and client instructions.

Perform your duties with the sense of integrity, positive attitude and desire of excellence.

Report any broken items, accidents and injuries promptly to the team leader. 

Move rugs, chairs and other small furniture as directed.

Secure homes, including locking doors and windows and activating any alarms without letting pets out.

Reporting any security or safety issue to the team leader immediately.

Wear appropriate clothing and protective equipment in accordance with the job you are performing.

Report any emergency maintenance problems to include toilets and other water fixtures to the team leader immediately.

Learn specific cleaning techniques of the company based on time and motion. Work smarter not harder.

Learn all cleaning details for the houses you clean on regular biases.

Attend and participate in meetings as requested by the owners.

Drive to specific meeting locations as requested (to pick up or drive with team member)

Keep your vehicle clean and well maintained.

Communicate effectively with team members and clients.

Double check your work and your teammates work. Look for any smears, crooked rugs, pillows, etc.
Email work order hours at the end of every day.

Notify office if you need any cleaning supplies at least a 24-hour notice.
 Skills                                                                                    
Organization

Prior cleaning experience

Ability to aid team members in lifting

Driver's License and Auto Insurance

Ability to stand, reach, stoop, kneel

Oral and written communication skills

Reasoning and problem solving skills
A team leader: is responsible for supervising cleaning staff and performing all cleaning activities within client's homes.
 Responsibilities
All task described forth on the Cleaning Team Member Job Description.

Determine routing schedule and delegate work flow and instructions to cleaning staff on a daily basis.

Resolve problems and discrepancies on job and or interact with clients to amend issues.

Report changes or challenges in homes.

Train and supervise new employees. Instill and maintain top to bottom, back to front, left to right, and don't retrace your steps work flow philosophy in all employees and LEAD BY EXAMPLE.

Respond to client's inquiries and specific cleaning requests regarding jobs as needed, and communicate changes to team members and back to office.

Maintain all client keys in a secure place, and notify the office of any key changes.

Perform quality control checks through every home, all the time, every visit.

Attend and participate in meetings as required.

Reads work orders and follows all instructions that are on the email. Pay attention to the amount of work hours for each house.

Collect all payments left by clients. Call the office if they are not paying the right amount.

Make sure all doors are locked after cleaning

Team leads must bring into their home the cleaning supplies, keys, checks and any other company items they may have with them daily.

Team leads do not have the authority to cut your team mates hours, you cannot send people home early; we are a team we must complete the job together.

Be fair and split the tips with your team member, any team lead caught keeping the whole tip will be terminated. Treat others as you would like to be treated, tips are something your whole team has earned. Please divide tips fairly.        
[123-contact-form i1850819]